Bhabiji Ghar Par Hai's Aasif Sheikh and Rohitashv Gour at Ramlila celebrations at Lal Quila in New Delhi!
Read Time:
3 Minute, 28 Second
Ahmedabad (Gujarat) [India], November 1: Bhabiji Ghar Par Hai actors Aasif Sheikh and Rohitashv Gour, immensely popular for their roles as Vibhuti Narayan Mishra and Manmohan Tiwari, attended the Luv Kush Ramlila festivities held at Lal Quila in New Delhi recently to witness the grand celebrations. Their joint appearance at the event was a delightful reunion after a four-year hiatus. Aasif Sheikh, who had graced the city with his presence last year alongside his onscreen wife, Anita Bhabi, essayed by Vidisha Srivastava, expressed his joy at returning to Dussera festivities once again in Delhi, where he has spent a significant time of his life. For Rohitashv Gour, this visit brought memories from his early acting days. In addition to immersing themselves in the grandeur of the Ramlila celebrations and meeting their adoring fans at the iconic India Gate, the dynamic duo savoured the flavours of Delhi's culinary delights, indulged in local shopping and interactions with fans on the street while soaking in the festive enthusiasm in the city. 
Sharing his excitement, Aasif Sheikh, aka Vibhuti Narayan Mishra, said, "Ramlila in Delhi holds a special place in my heart. Each visit deepens my affection for this celebration and its incredible audience. It undoubtedly stands out as one of these remarkable actors' most exceptional displays of art and talent. I have always been a fan of theatrical performances, and Delhi's Ramlila consistently tops my list of must-see events. While I never had the chance to participate in Ramlila, I used to accompany my friends to the Red Fort and lament the challenge of securing front-row seats for a close-up experience of the performances. Now, I get to attend it live on stage; the crowd cheering, and the feeling is incredible. I am grateful for all the love and affection we receive from our viewers there. It fills my heart with warmth and delight. Once again, my co-star Rohitashv (Tiwari Ji) was right there with me to share in this experience after a four-year hiatus, and the love and energy both the organisers and the crowd welcomed us made us feel on top of the moon. 'Delhi walon ne ek baarphirhumaradil jeet liya!'. The actor adds, "Besides participating in the grand celebration, Rohitashv and I explored some of the local attractions in Delhi, such as India Gate, to reminisce about our time in the city. I introduced him to some of my favourite dining spots, and we savoured every meal together. Without a doubt, it was a truly memorable trip for me, as always."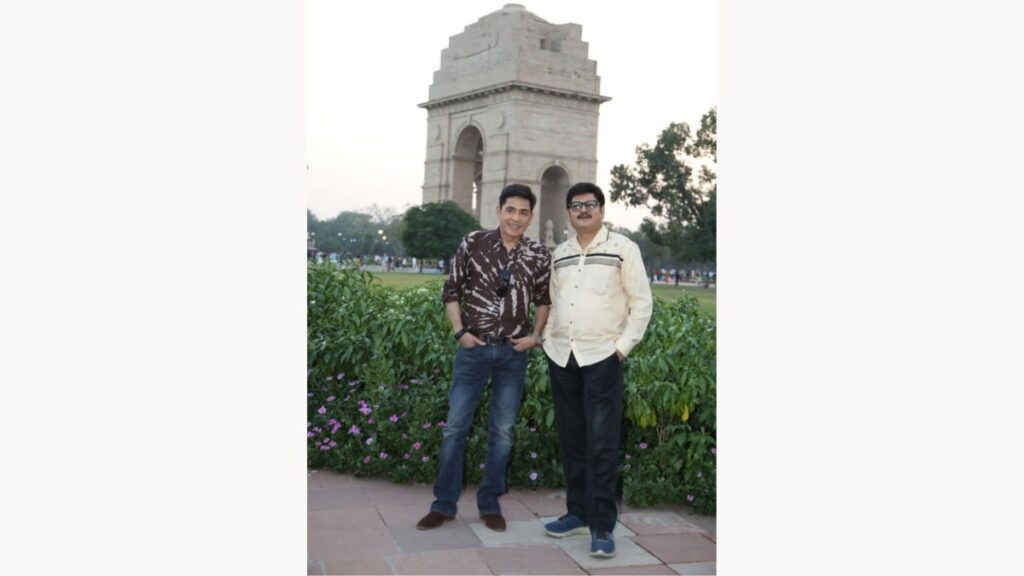 Rohitashv Gour, aka Manmohan Tiwari, added, "Watching Ramlila brings me back to my teenage years when I enthusiastically participated in the festivities in Kalka, a town near Chandigarh. I often found myself cast as Angad and Vibhishan, but deep down, I secretly yearned to portray the role of Ram (chuckles). My second visit to the event in the capital was a remarkable journey, accompanied by my dear friend and co-star Aasif Sheikh, who plays my neighbour in our show. We were privileged to witness this grand celebration, embraced by thousands of enthusiastic people, and it was a truly surreal experience. Although I once lived in the city during my National School of Drama days, I had limited opportunities to explore due to our busy schedules. However, Aasif Ji was the perfect host, aware of my love for local cuisine. He introduced me to some of the city's finest culinary delights, from delectable chholebhature to Delhi's iconic chaat. We also had the opportunity to connect with our fans, and the affection they showed us during our visit will forever hold a special place in my heart. I eagerly plan to keep visiting this city time and again."
Watch Aasif Sheikh as Vibhuti Narayan Mishra and Rohitashv Gour as Manmohan Tiwari in Bhabiji Ghar Par Hai, airing every Monday to Friday at 10:30 pm only on &TV!
If you have any objection to this press release content, kindly contact pr.error.rectification[at]gmail.com to notify us. We will respond and rectify the situation in the next 24 hours.