"Entrepreneurs Should Adopt Modern Technology to Succeed and Expand their Business": Masala King Dhananjay Datar
Read Time:
3 Minute, 30 Second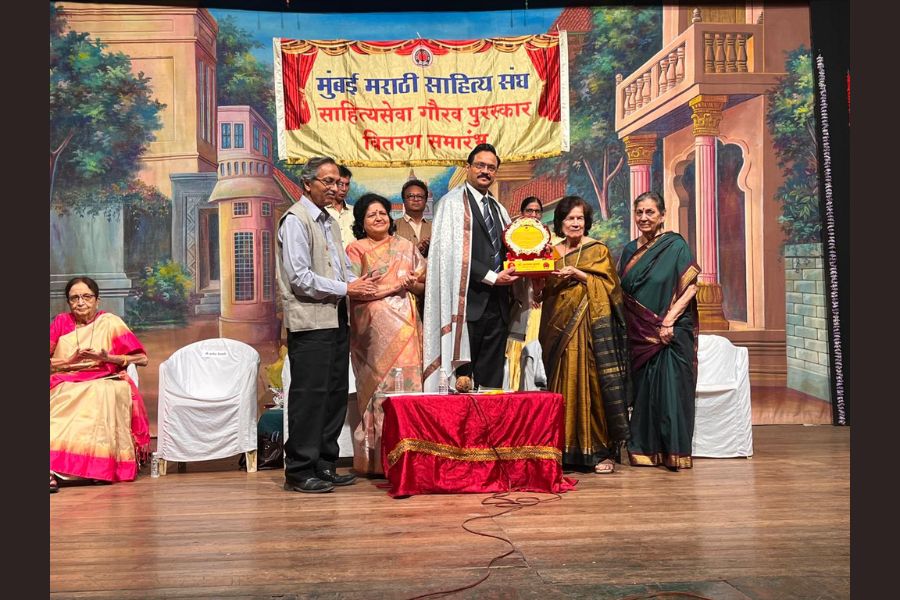 Masala King Dr. Dhananjay Datar was recently honored with the Marathi Yashwant Award by the Mumbai Marathi Sahitya Sangh. On the occasion (from left) – Usha Tambe (Working President), Ashok Bendkhale (Secretary), Dr. Ashwini Bhalerao (Chief Executive), Dr. Dhananjay Datar, Achala Joshi (President), Pratibha Matkari (Associate Award Winner)
Mumbai (Maharashtra) [India], November 3: Masala King Dr. Dhananjay Datar, CMD, Adil Group of Supermarkets, UAE, advised entrepreneurs to adopt modern technology for success and expansion in business. He was honoured recently with the Marathi Yashwant Puraskar award- a prestigious award given by Mumbai Marathi Sahitya Sangha and sponsored by Dr. Bhalerao and his family. Dr. Datar was conferred with this award at the hands of Achala Joshi, President, Mumbai Marathi Sahitya Sangha in a gala event at Dr. A. N. Bhalerao Auditorium, Girgaon.
This year, Dr. Dhananjay Datar graced the occasion as a Chief Guest of the 88th Annual Day of Mumbai Marathi Sahitya Sangh. He revealed his business experiences and success story in the program. He said, "A businessman, whether a new entrant or even an established veteran, goes out of context after some years, if he continues to work monotonously and thinks with orthodox mentality. Entrepreneurs should always keep in mind the Mantra that change is the rule of life. They should make changes in their attitude, personality, work style from time to time. I assiduously followed this strategy in my business from the beginning.
Dr. Datar said, "It is easy to start a business, but to keep it continuously profitable is a real challenge. Adopting modern technologies becomes crucial to succeed and expand in business. In the last millennium, we would run our shops with traditional style, but when I sensed the changes around me, I also realized customer's changing expectations. I responded to them quickly. I expanded my shops to big super stores, allowed the customers to handle and choose the products for themselves, and saved their time of billing with the help of scanners and computers. To ensure that our products are clean, safe and packed without human touch, I established modern spice factories and flour mills with state-of-the-art machinery and packaging technology. These steps helped me to take a huge leap forward. Today our group produces more than 700 food products under our own brand Peacock and we have brought out 9000 Indian food products to Gulf countries and African countries. This is the power of technology. Today's era is even more fast and there are new platforms such as e-commerce, online orders, digital payments, artificial intelligence and social media marketing, which are really useful for businesses. We should reap their benefits. Every entrepreneur should keep in mind that the new generation is brand conscious and brand identity impacts their purchase decision. Hence to build a strong brand and keep it in the limelight with the help of advertising event management, marketing and publicity is crucial. Business can't be done remaining in solitude or being publicity-shy."
During the program, 4 literary awards were also given at the hands of Dr. Datar. The recipients honoured were Pratibha Matkari (Sahcharini award), Anuradha Kulkarni (Chandragiri award), Milind Keerti (R. B. memorial ideological award) and artist Vijay Bodhankar (Literature award). Mumbai Marathi Sahitya Sangha Secretary Ashok Bendkhale welcomed the audience, Executive President Usha Tambe delivered the inaugural address and Chief Secretary Dr. Ashwini Bhalerao proposed the vote of thanks.
Mumbai Marathi Sahitya Sangha, established in 1935, is a renowned organization which has been active in the fields of Marathi language, Culture, Literature and Drama. Every year, it honours a veteran and successful personality from the Marathi global community with the Marathi Yashwant Puraskar award. The award constitutes a cash prize of Rs. 25,000 and a certificate of honour. Many renowned personalities such as Vijaya Mehta (film and drama director), Dr. Madhav Chitale (economist and water conservationist), Subhash Dandekar (businessman), Yashwant Deo (music director), and Dr. Anil Kakodkar (scientist) have been honoured with this award in the past.
If you have any objection to this press release content, kindly contact [email protected] to notify us. We will respond and rectify the situation in the next 24 hours.