Hafele India at Acetech 2023
Read Time:
9 Minute, 49 Second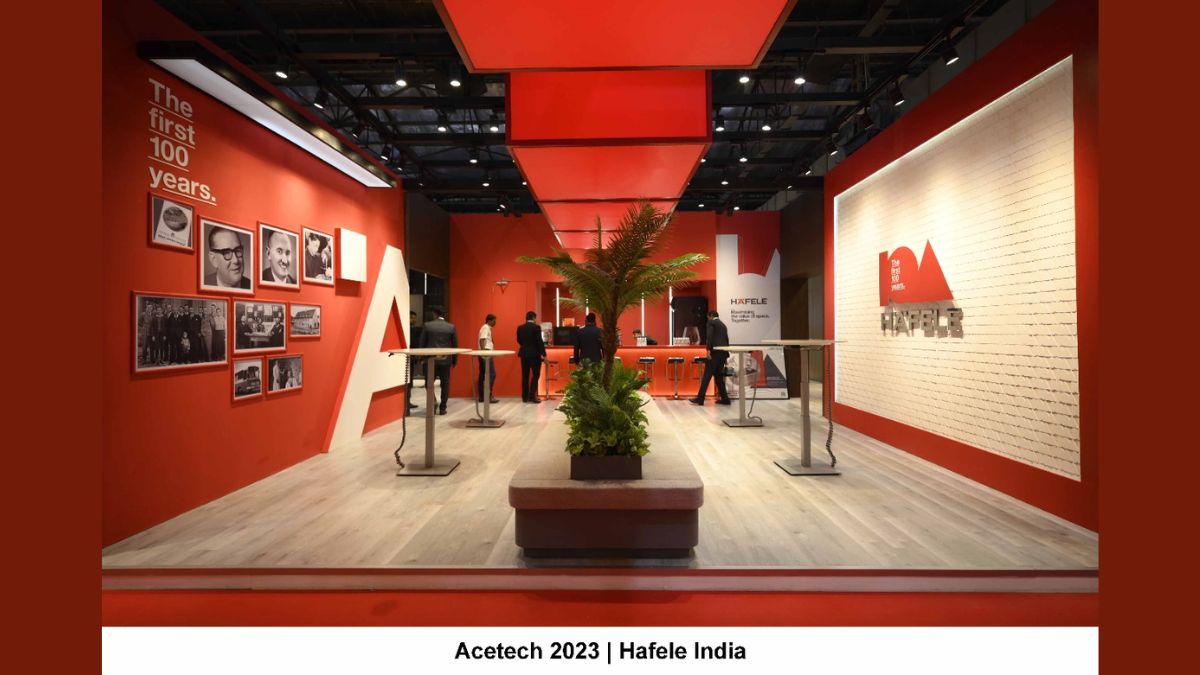 Mumbai (Maharashtra) [India], November 3: For Hafele, 2023 marks a huge milestone as it is now one hundred years old. We have taken the opportunity of this extraordinary anniversary to pause and reflect intensively on the growth that's taken us from a small hardware store in the Black Forest to a global company.
In addition to extraordinary people who have guided the company's fortunes with far-sightedness, what stood out prominently for us was our ability to forge strong partnerships that have been fundamental in shaping our progress and achieving the milestones we stand before today. Our passion for meeting customer needs has also been an essential part of our DNA since the foundation of the company by Adolf Hafele. And that is what we want to continue to strengthen in the future.
This concentration on the long heritage of our company has now become a guideline for the future. And as we transition between the first and second century, we aim to pour our collective experiences that have brought us here into a connected mould – our brand purpose, "Maximising the value of space. Together." through which we aim to co-create a holistic and sustainable environment for our endearing customers where they can enjoy the multiplied benefits of their living and working spaces.
Hafele's history is a story of consistent movement from furniture to the door into the room. And this year at Acetech, we not just celebrate a century of our legacy but also showcase, though our exhibit, our path which has led us from functionality to atmosphere and connectivity and on to a sustainable view of the customer process – from product planning to after sales support. Embracing a distinctive approach, our booth embodies these dimensions and our comprehensive product range, aligning seamlessly with our customers' aspirations through an immersive walk-through, simulating real-life interior settings, gradually leading from the living room and balcony to the kitchen, laundry area, bathroom, and finally, the bedroom.
Taking the 4 dimensions of our new purpose line, Maximising the value of space. Together., as the base, we present some of our key product highlights this year at the booth.  
Functional: This has been the core of our business for a hundred years now. But it's about more than just opening or closing furniture. It's about more convenience for the user, it's about flexibility and multi-functionality, it's about reliability, quality and longevity, it's about making ideas possible and it's about inspiration for our customers.
Our holistic range of kitchen and home solutions from our in-house global assortment – the Matrix Drawer and Runner Systems, Free Flap Fittings, Metalla 510 Furniture Hinges and Wire Storage Solutions reflect the strong competencies that Hafele holds in research, development, engineering and manufacturing; and come with the well-recognized quality standards that our brand stands for, globally.
Bringing forth the rising trend of incorporating quartz surfaces in the kitchen, Hafele launches its new sinks range – Lithos which means stone in Greek, aptly named to represent its inherent sturdiness, longevity and reliability. Engineered and composed of up to 80% coloured quartz stone grains, Lithos aims to provide an effortless transition between the sink center and the countertop, enabling a seamless design language in your kitchen.
Terra Quartz Surfaces under the Hafele Surfaces brand defines all that is "Hafele" – it comes with our promise of exceptional German quality. The range is immensely strong, versatile and creatively workable for a wide array of home applications. Owing to the inherent properties of quartz, Terra surfaces are non-porous as well as anti-bacterial, making them 100% safe, hygienic and long-lasting. The range offers over 20 classic and contemporary colours that add to the versatility of this range. Each colour has a soul and unique characteristic of its own.
Hafele's Autotec Automatic Sliding and Swing Door Series presents a collection of self-functioning entrances and exits rendering the routine task of operating doors redundant. Loaded with functional features like modern automation, easy customisations, buildable configurations and reliable operations, these systems are compatible for use in different areas like commercial business centers and corporate parks, shopping malls and cafes, hotels and restaurants, airports, and metro/ railway stations.
Autonova Vertical Hide-away Bed System and Monaco Bunk Bed System perfectly transform your interior space into various settings, for e.g. basis the time of the day – where in the day time there may be more free space required for work or play, the bed fittings can be retracted while during the night, the bed fitting can be  drawn out for you to unwind or basis multiple functionalities desired – where the bed fitting can be converted into a study table unit by day.
Atmospheric: When we move around in rooms, we experience the functions and the technology, and emotions are invoked as well. These have to do with well-being and orientation, qualities that we often perceive on an unconscious level. That's why we have been working with the topic of light to create a unique selling point in the market with the systematic combination of furniture and room lighting – which also improves the quality of the atmosphere in the room, no matter whether the space is designed for living or working.
Hafele's Loox Range has been meeting the demands for lighting in furniture as well as the growing needs for networking and digitalization since the last 10 years. The solutions offered within this range maximize simplicity and flexibility as well as assure high reliability. The range presents itself as a unique combination of elegant design and state of the art technology making it the perfect choice for any home furniture application, be it Task Lighting for Kitchen cabinets and plinths, Decorative Lighting for Living Room Showcases, Mood Lighting for Bedroom Applications or pure Functional Lighting in Wardrobes.
With Hafele's Architectural Lighting Range you will find all your ambient lighting needs taken care of. Whether it is lighting up a small area, highlighting a wall texture, emphasizing on a work of art, illuminating the floor space at night or simply ensuring even distribution of light across the entire space – these lights have got you covered. The range, consisting of numerous series, covers various applications, installation techniques and design themes. Each series comes with a comprehensive offering of the different types of interior lights, be it downlights, spotlight or wall washers, which allows you to implement a consistent design theme (in terms of the lighting fixtures) across the space available, even with differentiated illumination techniques. Engineered on the same philosophy of 'easiness' and 'flexibility' as the Loox furniture lighting system, Hafele can now be your holistic, lighting solutions provider, delivering premium ambient, task and accent lighting for your living spaces.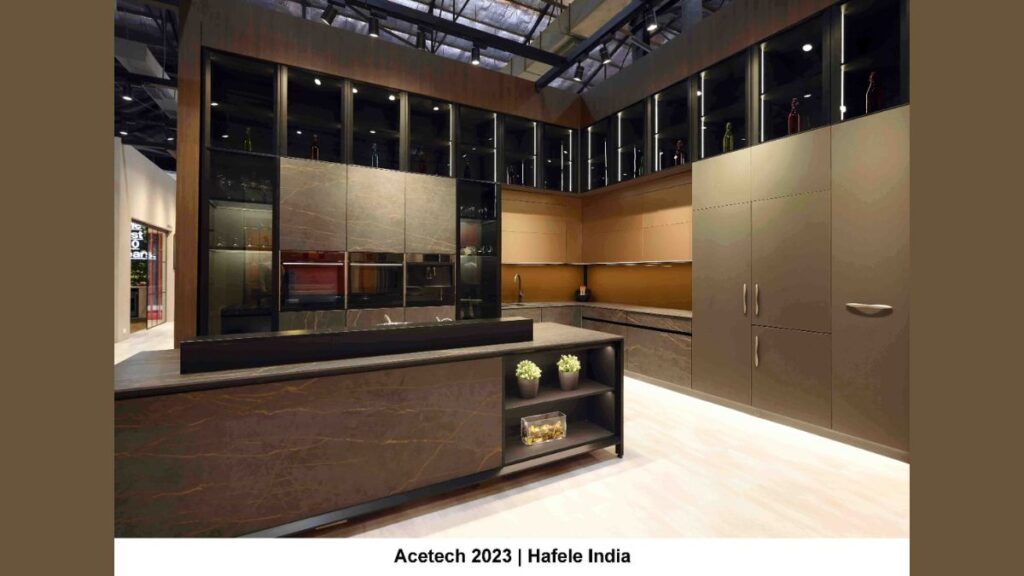 Intelligent: Homes are becoming intelligent and so are our range of products and services. Thanks to our smart appliances and digital security solutions, the components in the room can be controlled easily and conveniently and can also be connected with other smart systems as needed. We strive to be an innovative player in the digital world of today and tomorrow.
With Hafele's Premium and Luxury Range of Appliances, cooking, baking, refrigeration and washing are no longer mere chores – they provide an experience that is almost recreational! These innovative home appliances augment flexibility & co-ordination within the kitchen as well as can seamlessly complement the overall look and design of your kitchen.

Experience a smart, connected technology in the kitchen with Celsius° Cooking™ system from ASKO. It's built with the Hestan Cue connected cookery technology and consists of a high-quality induction hob – an appliance that manages to be both highly advanced, and really user friendly – with electronically-linked pots and pans and a temperature probe. Transforming the standard concept of aspiration into modular, innovative, multifunctional structures that are fully integrated into the kitchen are Falmec's new Monolith and Shelf Extraction Systems that transcend the traditional boundaries of extraction.

Meet your daily cooking needs with a level of smarter efficiency through our exclusive range of Vesta and Altius FS Built-in Hobs especially built to cater to Indian cooking patterns. Extend your culinary skills to experimental baking, grilling or roasting, with our Diamond ORB 77 Built-in Oven. Enhance your cooking experience further with our smart, gesture controlled Callidora Cookerhood that works effectively to pull in all the smoke and fume residues. And lastly experience adaptive cooling and unparalleled freshness and storage with the ARK Series of Refrigerators.

Discover healthy cooking with the NOIL Air Fryer which prepares 100% delicious food with 90% less oil. Brew a full-flavoured cup of coffee with U-Kaffee's rapid thermoblock technology and 15-bar pump pressure that ensure that the coffee grind is exposed to precise pressure and temperature conditions.

Hafele's Digital Door Security Solutions bring to you the most advanced technologies in digital access modes, safety features, convenient settings and much more; attempting to provoke a serious thought not just about home security but also about how easy can your daily interactions with the door be made. These solutions from Hafele allow you to control multi-dimensional aspects of home access through a single locking device, as per your specific lifestyle and at the leisure of your convenience.
Hafele's Kabi-Net Digital Locks are a compact and unique range of locks that enable secure biometric access to your precious belongings stored in drawers, cabinets or wardrobes. Taking care of your security worries, these locks bring convenience and peace of mind. A three-colour LED indicator updates you on the status of the lock while also providing you with an alarm if the battery is low. These locks also feature an emergency key which is unique to the lock and an auto locking function, enhancing safety.
Organised: We not only take care of products and solutions, but also our customers' processes. No matter whether they have to do with the manufacture of furniture or with the development for project business. We want to provide our customers with tangible added value by helping them achieve goals easier, faster, safer, and more efficiently. For instance, we can do this with customised planning services or specialized installation services for our customers.
Hafele's Service+ constitutes of services that give our customers considerable added value in terms of building expertise, increasing productivity or providing individual customised solutions. The aim is to create solid long-term foundations for our comprehensive service promise and to make Hafele an indispensable partner for our customers. The focus here lies not so much on us and on what we do – but rather, on the benefits derived by our customers.  We want to empower them with opportunities to develop and expand their skills – both as masters of their trade and as entrepreneurs. We want to support them in the planning and realisation of their projects and relieve them of as much work as possible, thereby providing them with a helping hand to use their most valuable resource – time – as efficiently as possible. And we aim to give our customers peace of mind and the assurance that even after the end of a successful project completion, we will continue to be there for them as a reliable partner, shouldering responsibility.
Come visit our the Hafele booth this Acetech to experience this purpose translated into action as we showcase living and working environments that exude multi-functionality, enhance orientation, boost convenience and ultimately add value.
Booth Details: Hall 1, B5 & 6, C5, Bombay Convention and Exhibition Centre, Goregaon.
If you have any objection to this press release content, kindly contact pr.error.rectification[at]gmail.com to notify us. We will respond and rectify the situation in the next 24 hours.